In Wanted: Dead, picking the best upgrades can go a long way toward helping players master the game's stylish but hard combat system.
Wanted: Dead is a typical action game, but it does a few things that other games don't. It doesn't just want to be a hack-and-slash game. It tries to be a tactical shooter as well. Hannah Stone, the main character, will have a number of guns to help her with her katana work.
Hannah will get SP when she kills an enemy with a bullet or a blade. This can then be used at any time in the skill tree to give her new moves, make her items more useful, or boost her stats. Wanted: Dead has a lot of upgrades to choose from, but the best ones can make a big difference.
Grenade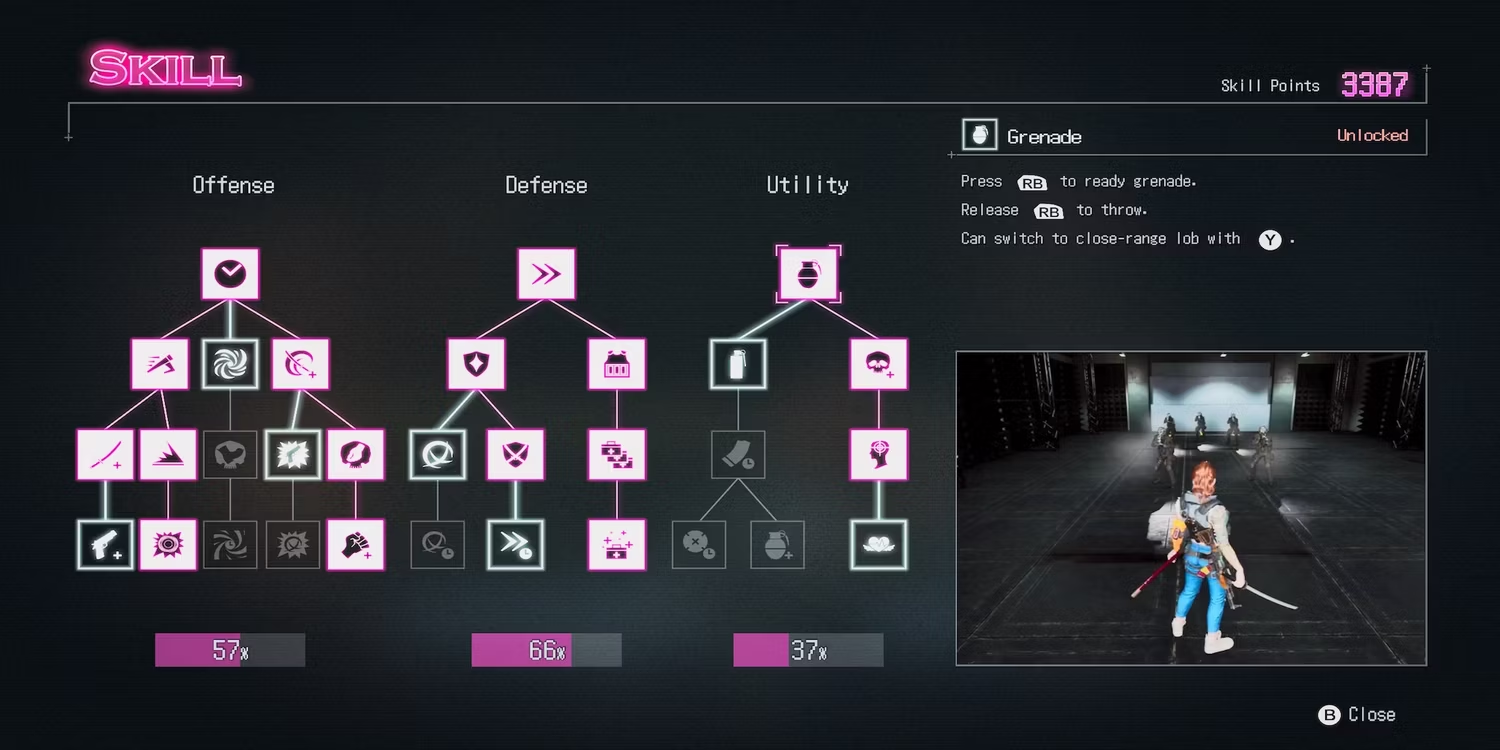 As you might guess from the name, the Grenade ability will let you use grenades. There are a lot of enemies in the game, and it's easy to let them take over. But a well-placed grenade can change the situation, even if the explosion doesn't kill anyone.
Players can just throw a grenade, let it go off, and then run in to finish off the enemy forces that are now weaker. But they don't need to unlock any more of the grenade-related skills, because the starter is more than enough for an action game.
Dash Attack
With the Dash Attack, players can knock down their opponents. All they have to do is run toward an enemy and press the action button on the controller. On the Xbox Series X controller, this is the X button. This will make them fall down, giving the players a huge advantage.
When there are a lot of enemies around, it's fine to let this one fight alone while the player takes care of other enemies. There are other skills that can make this ability work better, but for the first few levels, Dash Attack is good enough.
Armor Reinforced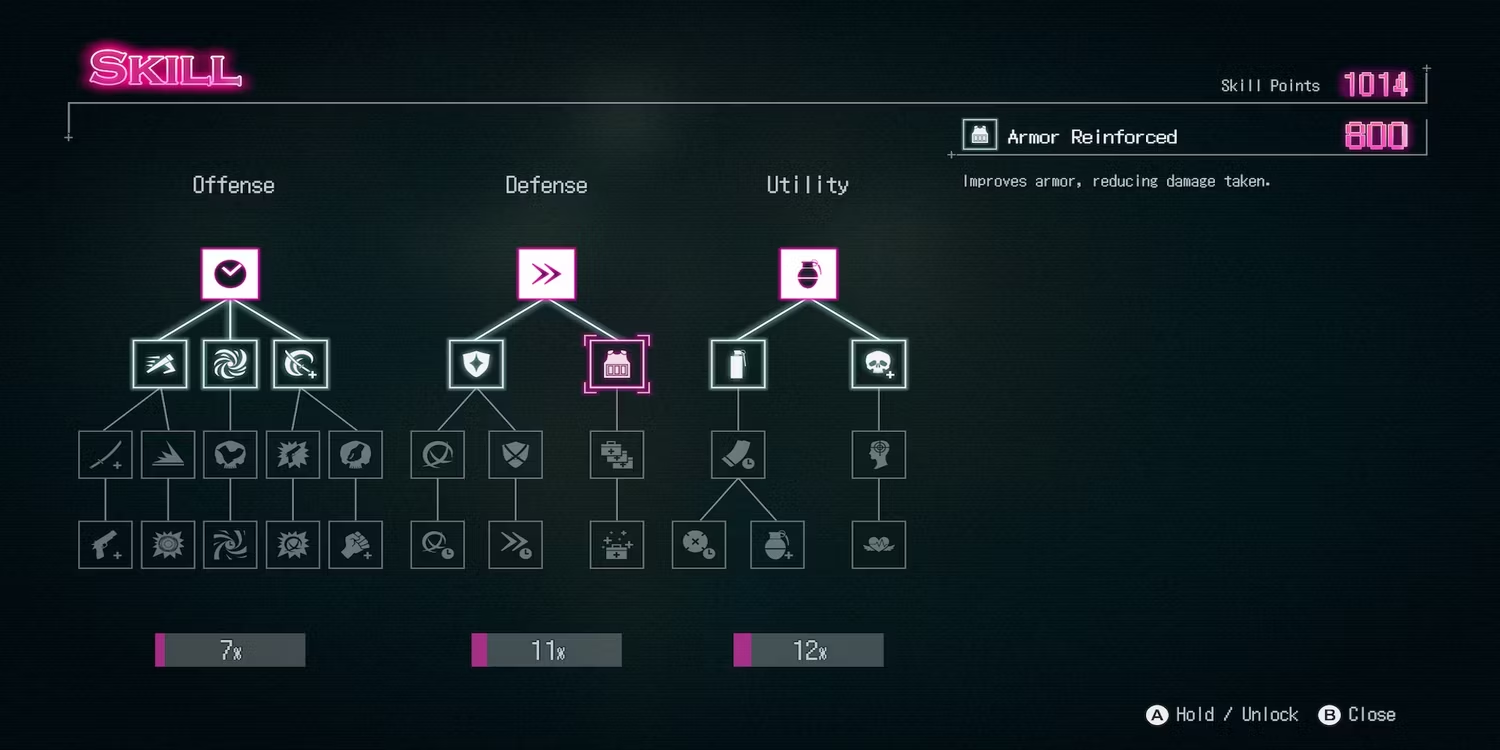 Wanted: Dead is not a simple game. On the title screen, there are no Easy or Casual modes, and there are no help features. That's why it's important to work on your defenses early on in the skill tree. Armor Reinforced will make Hannah's armor better at protecting her.
Increased Melee Defense is a nearby skill that, as the name suggests, focuses mostly on making melee defense better. Both of these skills should make it easier for players to stay alive longer in battle. Again, these are obvious skills to buy in an action game, but it's still worth mentioning.
Stimpack +1
Healing is just as important as getting better armor in any good action game. The Stimpack +1 perk makes it possible to carry one more of them. The most a player can have in their inventory at any given time is four.
At checkpoints, you can get more supplies and stim packs that enemies drop. You should also buy the skill right below this one, Stimpack Recovery Up. It makes stim packs 60% more effective, which should almost fill Hannah's health bar to its full capacity.
Severed Arm Finishing Strike
The Severed Arm Finishing Strike could be one of Wanted: Dead's best skills. As players hack and slash at enemies, eventually their arms will fly off. Most enemies don't have health bars, so this will show that they are almost dead.
Most of the time, players have to keep fighting them until they turn gray, which lets them kill them with a finishing move. With the Severed Arm Finishing Strike, you can do a finisher after cutting off one arm. There is also an exercise for the legs, which players can skip for now.
Melee Damage Up
The Melee Damage Up skill will make Hannah's katana stronger. This skill is simple but useful, so there's nothing else to say about it. Even though there are guns and katanas in this action game, it is mostly about close combat.
At least, that's how the game seems to be made. Developers who worked on Ninja Gaiden and other melee-focused action games made Wanted: Dead, which could explain why the shooting parts don't feel right.
Melee Adrenaline Rate Up
In Wanted, there are two kinds of moves to end the game: Dead. As was said above, enemies can be killed when they turn gray. Hannah's Adrenaline meter will also go up when she uses close-range attacks. Once the meter is full, players can use Bullet Time to slow down time and make Hannah shoot a lot of bullets.
If enough damage is done to enemies during this time, players can kill them and even set up a chain of finishers. It's not easy to learn, and it takes a while to get the rhythm right. If players don't have Melee Adrenaline Up, which speeds up how fast the meter fills up when they take damage, they won't be able to do this.
Doc: Revive Overdrive
Wanted: Dead is mostly a squad-based shooter, since Hannah is usually with Cortez, Kolchak, and Doc when she goes on missions. In the skill tree, she can unlock one skill for each of her teammates. Doc's skill, called "Doc: Revive Overdrive," is the last one in the chain.
Most of the time, players can "die" once per checkpoint, and Doc is the one who brings them back to life. If you buy this skill, it will make his revival work better by filling up the Adrenaline meter and giving you an extra stim pack. It is the best team-based skill in Happy Wheels game, and Doc is the best teammate by a long shot because of it.
Wanted: Dead came out on February 14, 2023, and you can play it on PC, PS4, PS5, Xbox One, Xbox Series X, and Xbox 360.
i'm Abbas founder of review-informations.com. I am a professional seo export and a blogger. i'm provide high quality content.